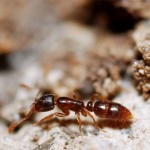 How to get rid of Ants?
Inspection and identification is the first and foremost step in getting pest problems under control. Some of the types of ants are Acrobat Ants, Argentine Ants, Bigheaded Ants, Carpenter Ants, Citronella Ants, Field ants, Fire Ants, Ghost Ants, Harvester Ants, Odorous Ants, Pavement Ants, Pharaoh Ants, and Thief Ants.
They can enter through even the tiniest cracks, seeking water and sweet or greasy food substances in the kitchen pantry or storeroom areas. Ants leave an invisible chemical trail which contains pheromones for others to follow one they locate the food source. They can nest anywhere in and around your house, in lawns, walls, stumps, even under foundations.
DIY solutions kill only the ants your see. Some truly effective treatments can penetrate and destroy nests to help prevent these pests from returning. Also, home remedies don't account for the fact that different kinds of ant infestations require different treatments.
These kinds of insects are known to be one of the most difficult to remove from the house.
It is recommended that anyone experiencing a infestation contact a pest control professional to arrange for a consultation. Professionals are trained not only to address current infestations but also to prevent future infestations. Scheduling a home inspection is free and it will save you time and money.
The ants life cycle consist of four stages, including egg, larvae, pupae and adult. This is known as complete metamorphosis. There is an estimated total of 22,000 species of ants classified.
They form colonies which can number up to 300,000 or 500,000. The whole colonies can also uproot and relocate quickly when threatened. A colony can live a relatively long lifetime. Worker ants may live seven years, and the queen may live as long as 15 years.
Our pest professional will create a tailored solution for your home or commercial needs.
Your Carefree technician can come periodically to monitor and help prevent an ANT infestation.
GET QUOTE NOW
30 DAYS MONEY BACK GUARANTEE
We accept all credit and debit cards!