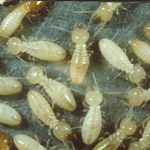 How to get rid of Subterranean Termites?
An inspection is the first and foremost step in preventing termite problems. Since Termites mostly live underground and in the walls of your home or business, it is very difficult to identify their presence.
Some signs of Termite presence:
Termite droppings, which look like small, ridged, wood-colored pellets.
Mud tubes on exterior surface.
Wings all of the same size (look like tiny fish scales) shredded near an entry point to your home.
A subterranean termite infestation will begin when warm temperatures and heavy rainfall trigger an established colony to send out a swarm of winged termites.
Eliminate the collection of moisture by fixing leaking pipes, A/C units, and other home fixtures
Ensure drainage sites remain clean and effective.
Repair cracks in the foundation and utility lines/pipes.
Keep plants and mulch well maintained.
Store firewood and lumber away from the home.
Get rid of excess wood like tree stumps or yard debris.
Install appropriately sized screens on exterior vents.
Monitor outdoor wooden structures.
It is recommended that anyone experiencing a infestation to contact a pest control professional and arrange for a consultation. Professionals are trained not only to address current infestations but also to prevent future infestations. Scheduling a home inspection is free and it will save you time and money.
If you are constructing a new home, especially in a high-risk area, it is advisable that you obtain estimates from reliable professionals for termite-proofing your home. Pest control professionals are best equipped to take preventive measures, which could save homeowners from severe loss. Pest control experts will also be able to make recommendations that can help to prevent termite infestation.
These termites are classified as pests and are the most economically important wood destroying insects in the United States. They feed on cellulose material such as the structural wood in buildings, wooden fixtures, paper, books and cotton. A mature colony can range from 20,000 workers to as high as 5 million workers and the primary queen of the colony lays 5,000 to 10,000 eggs per year to add to this total.
Subterranean termites build large colonies underground, which are composed of elaborate tunnels and chambers. Worker termites then construct protective tunnels made of mud and saliva in order to reach above-ground wood. When subterranean termites eat wood, they fill it with soil to help maintain the humidity. If mud tunnels are visible on the walls or foundation of your home, it is highly likely that you are experiencing a subterranean termite infestation.
Our trained termite professional will create a tailored solution for your home or commercial needs.
Your Carefree technician can come periodically to monitor your home and help prevent an infestation with TERMITES.
GET QUOTE NOW
30 DAYS MONEY BACK GUARANTEE
We accept all credit and debit cards!