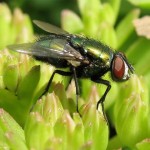 How to get rid of Flies?
Inspection and identification is the first and foremost step in getting pest problems under control. Sanitation is critical to controlling these pests, but accurate identification is essential for successfully controlling flies. Some of the more frequently encountered flies around the home include house flies, fruit flies, blow flies, cluster flies, mosquitoes, fungus gnats and biting midges such as sand flies. Flies that often occur around animals are face flies, horse flies, screwworm flies, stable flies and deer flies. Interestingly, these flies will also bite humans and cause a great deal of annoyance and disease transmission.
The best way to repel flies is though preventive measures. Flies prefer warm temperatures and are most active from late spring to early autumn.
Tips to controlling Flies:
Keep doors and windows closed.
Screen windows, doors and vents.
Keep garage cans clean and securely closed.
Keep surfaces clean.
Don't allow plant debris to pile up.
Eliminate dead animals around your property.
Keep gaps, holes and other potential fly entryways sealed
For best results, contact a pest professional.
It is recommended that anyone experiencing a infestation contact a pest control professional to arrange for a consultation. Professionals are trained not only to address current infestations but also to prevent future infestations. Scheduling a home inspection is free and it will save you time and money.
FLIES
PEST CONTROL
There are over 20,000 species of flies within the United States. The common house fly can carry more then 100 disease causing pathogens. These diseases include cholera, hepatitis, typhoid fever and more. Depending on the species, the life expectancy is eight days and up to a year. One pair of flies can produce more than 1 million offspring through their offsprings' offspring within weeks. Because they only have 2 wings, flies land often and therefore can deposit thousands of bacteria each time they land.
If you need a professional to rid yourself of these pests, contact our pest professionals.
Your Carefree technician can come periodically to monitor your home and help prevent an infestation with FLIES.
GET QUOTE NOW
30 DAYS MONEY BACK GUARANTEE
We accept all credit and debit cards!