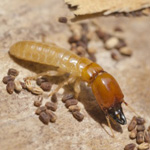 How to get rid of Drywood Termites?
An inspection is the first and foremost step in identifying if Drywood Termites are present. When the species of termite is identified, a tailored solution will eliminate and prevent further termite problems and damages. Since Termites mostly live underground and in the walls of your home or business, it is very difficult to identify their presence. If you believe that you have drywood termites, contact a professional for a free inspection. This will save you time and money.
Drywood Termites create colonies in wood, without needing to connect to the ground. They are often found in attic wood and can survive with very little moisture. When a drywood termite colony is mature, swarms of winged male and female reproductive. These reproductive termites fly out of their colony to create new colonies after mating. Warm temperatures and heavy rains can also instigate swarms.
Drywood termites infestations are identifiable by the presence of piles of fecal pellets. These fecal pellets are often first noticed in places like windowsills.
Carefree Pest Solutions, Inc. believes in a economical solution as long as we are able to detect the invasion early on. We do not believe that every home needs to be tented unless the situation was left untreated.
It is recommended that anyone experiencing a infestation to contact a pest and termite professional to arrange for a consultation. Our professionals are trained not only to address current infestations but also to prevent future ones. Scheduling a home inspection is free and it will save you time and money.
TERMITES

It is estimated that termites cause over a billion dollars in damage to United States homes each year. Because the dangers of termite infestation are not publicized much, this leads most homeowners to believe that no preventive measures are necessary.
Our pest professional will create a tailored solution for your home or commercial needs.
Your Carefree technician can come periodically to monitor your home and help prevent an infestation with TERMITES.
GET QUOTE NOW
30 DAYS MONEY BACK GUARANTEE
We accept all credit and debit cards!