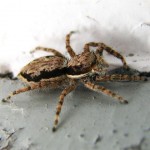 How to get rid of Spiders?
Inspection and identification is the first and foremost step in getting pest problems under control. There are many different types of spider in Florida. Some of them, such as golden orb spiders, are mildly venomous and have painful bites, but their venom is too weak to be life-threatening to human beings (although in rare circumstances, it can cause allergic reactions).
The most dangerous spiders in Florida belong to one of two types: they are basically either a species of widow spider, or a species of recluse spider. These are the only two types of spider found in Florida that have venom powerful enough to be dangerous to people.
You can minimize the chances of being bitten by being aware of the types of places where both types of spider might be found, and also by taking appropriate precautions, such as wearing gloves when reaching into recesses and places that you can't see, where spiders might be hiding. Both types of spider can take up residence in old clothing that you haven't worn for a long time.
Other places where you should exercise caution is reaching into storage boxes, onto shelves in sheds, or when grabbing bundles of firewood – essentially places where you can't see where you are putting your hands.
Spiders feed on insects, other spiders and any other prey they are able to subdue.
They commonly enter homes in two primary ways: entering through open, poorly screened windows and doors and through cracks and gaps around door and window frames. Most of the time, spiders come inside the home looking for prey. The other common method of entry is accidentally hitchhiking inside boxes, on outdoor items and numerous other things that are brought inside a home or business.
Check your home or business for cracks.
Combine a cup of apple cider vinegar, a teaspoon of oil, one cup of pepper and a teaspoon of liquid soap. Put all of these in a spray bottle and mix well. Consistently spray this at all location where they usually form and a couple of days after rain.
Introduce lady bugs around the parameter.
Keep things clean, spiders love clutter.
Get a pet, they chase anything that moves.
It is recommended that anyone experiencing a infestation to contact a pest control professional and arrange for a consultation. Professionals are trained not only to address current infestations but also to prevent future infestations. Scheduling a home inspection is free and it will save you time and money.
SPIDER
PEST CONTROL
Spiders are air-breathing arthropods that have eight legs and chelicerae with fangs that inject venom. As of November 2015, at least 45,700 spider species, and 113 families have been recorded by taxonomists. However, there has been dissension within the scientific community as to how all these families should be classified, as evidenced by the over 20 different classifications that have been proposed since 1900.
Our trained technician will create a tailored solution for your home or commercial needs.
Your Carefree technician can come periodically to monitor your home and help prevent an infestation with SPIDER.
GET QUOTE NOW
30 DAYS MONEY BACK GUARANTEE
We accept all credit and debit cards!