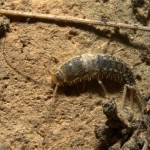 How to get rid of Silverfish?
Inspection and identification is the first and foremost step in getting pest problems under control. Most often, homeowners detect silverfish when they find one on the floor or in a sink or bathtub. Their feeding damage also can indicate their presence, along with their tiny pepper-like feces.
Silverfish are nocturnal and move very quickly. They are secretive, and the severity of an infestation may go unnoticed for long periods of time, allowing for exponential growth.
Silverfish can survive in almost any environment, but they prefer areas with high humidity. Nymphs develop faster in areas that are humid. Therefore, one of the best ways to prevent an infestation is to control humidity. In crawl spaces, open vents and in basements, use baseboards with caulking. Silverfish feed on carbohydrates, particularly sugars and starches. Cellulose, shampoos, glue in books, linen, silk and dead insects may be food sources. Stringent housekeeping practices may help prevent an infestation by limiting potential feeding sites.
It is recommended that anyone experiencing a infestation contact a pest control professional to arrange for a consultation. Professionals are trained not only to address current infestations but also to prevent future infestations. Scheduling a home inspection is free and it will save you time and money.
Silverfish are small wingless nocturnal insects who are known for their destructive feeding habits, oftentimes ruining papers, clothing and wallpaper. Silverfish infestations can be found in dark and damp areas, including kitchens, laundry rooms, bathrooms, attics and basements. Commonly found in stored boxes in garages and sheds.
Their abdomens are taper at the end, giving them a fish-like appearance. One species lays a few eggs a day where as another species lays clusters of 2 to 20 eggs.
Our trained technician will create a tailored solution for your home or commercial needs.
Your Carefree technician can come periodically to monitor your home and help prevent an infestation with SILVER FISH.
GET QUOTE NOW
30 DAYS MONEY BACK GUARANTEE
We accept all credit and debit cards!